Description
Our platinum course contains all of the relevant material you will need to pass the PTCB Exam on your first attempt. Our PTCB Accredited Course is broken up into 9 chapters, with hundreds of PTCB Practice Questions. You'll memorize the Top Medications in a snap with our proven techniques. Calculations will be a breeze once you see how most of them can be reduced to just one equation! Should you have any questions while taking our course, our instructors are at your beckon call!
While our exceptional pass rate speaks for itself, just look at how well we perform compared to everyone else: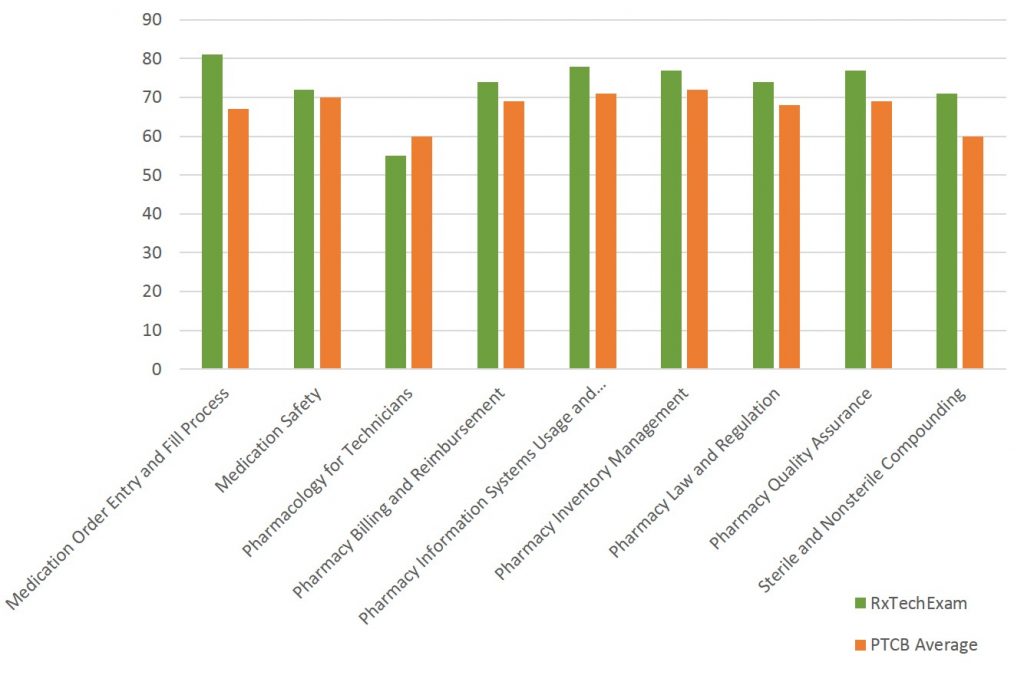 This course includes EVERYTHING RxTechExam has to offer! Video webinars, including the associated quizzes, worksheets, and reference for the following chapters:
Introduction to Pharmacy
DEA Scheduling and Dosage Forms
Anatomy & Physiology
Interpreting Prescriptions
Pharmacological Calculations
Pharmacy Law
Community Pharmacy
Institutional Pharmacy
Pharmacy Benefits Management
500+ Practice Exam Questions
Top 100 Medications Electronic Flash Cards
Medical Abbreviations Electronic Flash Cards
Mathematical Conversion Factors Electronic Flash Cards
By passing this course with a score of 90% or above, you will receive Certificate of Completion from RxTechExam which NOW REQUIRED BY THE PTCB TO SIT FOR THEIR EXAM..
We guarantee that you will be successful on the PTCB Pharmacy Technician Certification Exam after studying with the Platinum Course offered by RxTechExam.com – or we will refund back your course cost per our guarantee to you.
Our online and self-paced courses will prepare you to pass the PTCB Exam and become a certified pharmacy tech. We have an 85% PTCB pass rate with thousands of enrollees over the last 7 years. The course material is interactive and fun, unlike a textbook. The content is focused around what you will be tested on when you take the PTCB exam, and without a lot of fluff that you would get if you went to a local school. You'll be given 90 days from the date of purchase to complete the course, it takes most of our students between 4-6 weeks to prepare for the PTCB Exam.