2020 PTCB Exam Pass Rates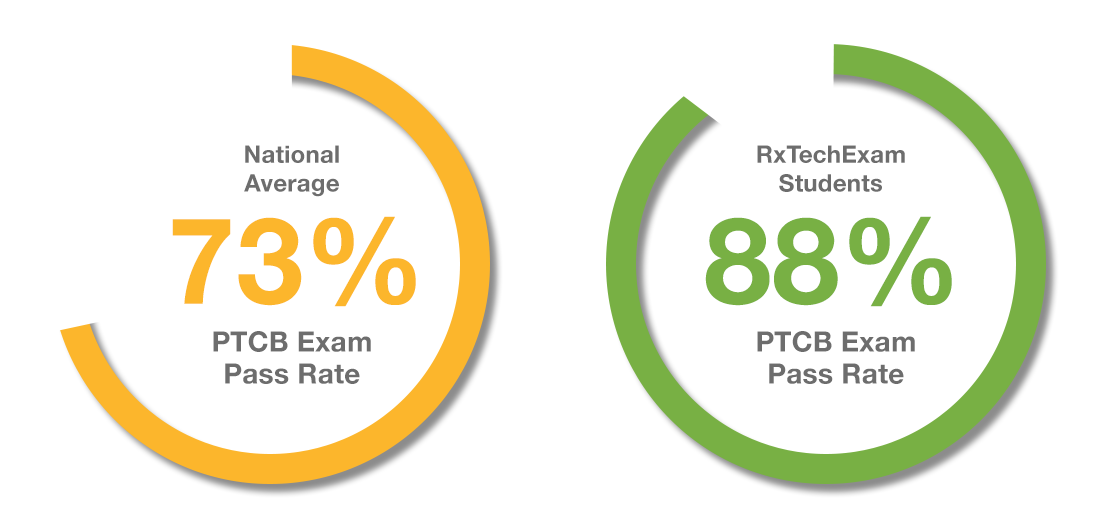 What is RxTechExam?
We are a PTCB-Recognized Educator (2020 Compliant) that has helped thousands of promising pharmacy technicians with their PTCB preparation since 2013. RxTechExam is completely online and can be used on any device with an internet connection and a modern browser. The course can be completed in approximately 4-6 weeks. The backbone of the course is a series of instructional videos, which are paired with quizzes, simulations, electronic flash-cards, one page references documents, and other learning aids to provide reinforcement to the learner.
High School Pharmacy Tech Programs
One of the best uses of our course is to adjunct a high school or community college's pharmacy technician education. As you can see (above), we've worked with many schools across the country in various capacities to ensure the best student outcomes.
For our educational customers, we extend the availability of the course to match their need, whether it be for a semester or a full year. In addition, for institutions enrolling multiple students, we provide an "admin" login so that a course instructor/proctor can monitor student progress and track grades.
Pharmacies / Chains / Health-Systems
While every pharmacy has their nuances, they can all benefit from well-trained, certified pharmacy technicians. On January 1st, 2020, the PTCB now requires a prerequisite course for those interested in taking their exam. RxTechExam is the best option available to satisfy that requirement, and provide your staff a competency-based understanding of the field of pharmacy. We're:
Self-Paced: meaning the timing on our modules is flexible. We have 4/6/8 week formats that have all had successful outcomes.
Established: since 2013, we have helped thousands of people prepare for the PTCB Exam. Our PTCB pass-rate is more than 20% higher that the national average!
Online: students can take our course anywhere, anytime, on any device. Our course is delivered in a video format.
Able to Report: we provide all of our enterprise users an admin login to track the progress of their group and their grades along the way.
Let us collaborate on a solution for your business.